FOR ALL MENTAL HEALTH PROVIDERS:
The E4 Center of Excellence for Behavioral Health Disparities in Aging, in partnership with CATCH-ON, the Geriatric Workforce Enhancement Program based at Rush, and the Rush Center for Excellence in Aging has developed a 14 hour self-paced online educational program that provides basic knowledge that every mental health clinician needs to work effectively with older adults. Completion certificates are sponsored by the Council of Professional Geropsychology Training Programs.
Learn more HERE.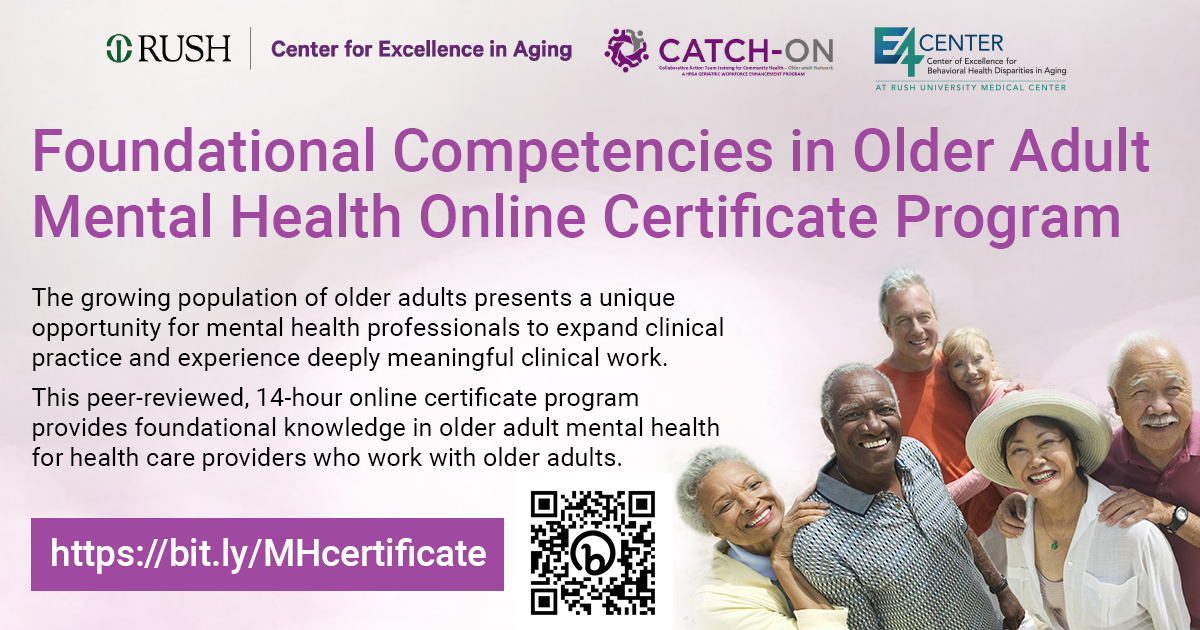 FOR PSYCHOLOGISTS:
The American Psychological Association offers a variety of educational resources related to aging and Geropsychology.  You can find the following specific resources on the APA sites below.  To find resources specifically related to Geropsychology, use the search option using key words, e.g. dementia, aging, caregiver, etc.
Some aging related online course offerings from APA:
Council of Professional Geropsychology Training Programs maintains a list of geriatric mental health web-based training options
The following vendors offer APA approved continuing education courses, including courses related to Geropsychology and aging issues.  Specific courses titles offered at these sites may change over time.
Free online training:
FOR SOCIAL WORKERS: