Epidemiology
Older people are the demographic group with highest rates of suicide deaths globally (Figure 1, Global Burden of Disease Collaborative Network, 2018). Data from the Centers for Disease Control and Prevention indicate that suicide rates are highest among older men in the U.S.; for example, men age 80-84 had a suicide rate of 38.9 per 100,000 in 2019, compared to the overall U.S. population rate of 14.5 per 100,000.  Projections indicate that suicide rates in older adults are likely to increase as current cohorts mature into older age (Phillips, 2014).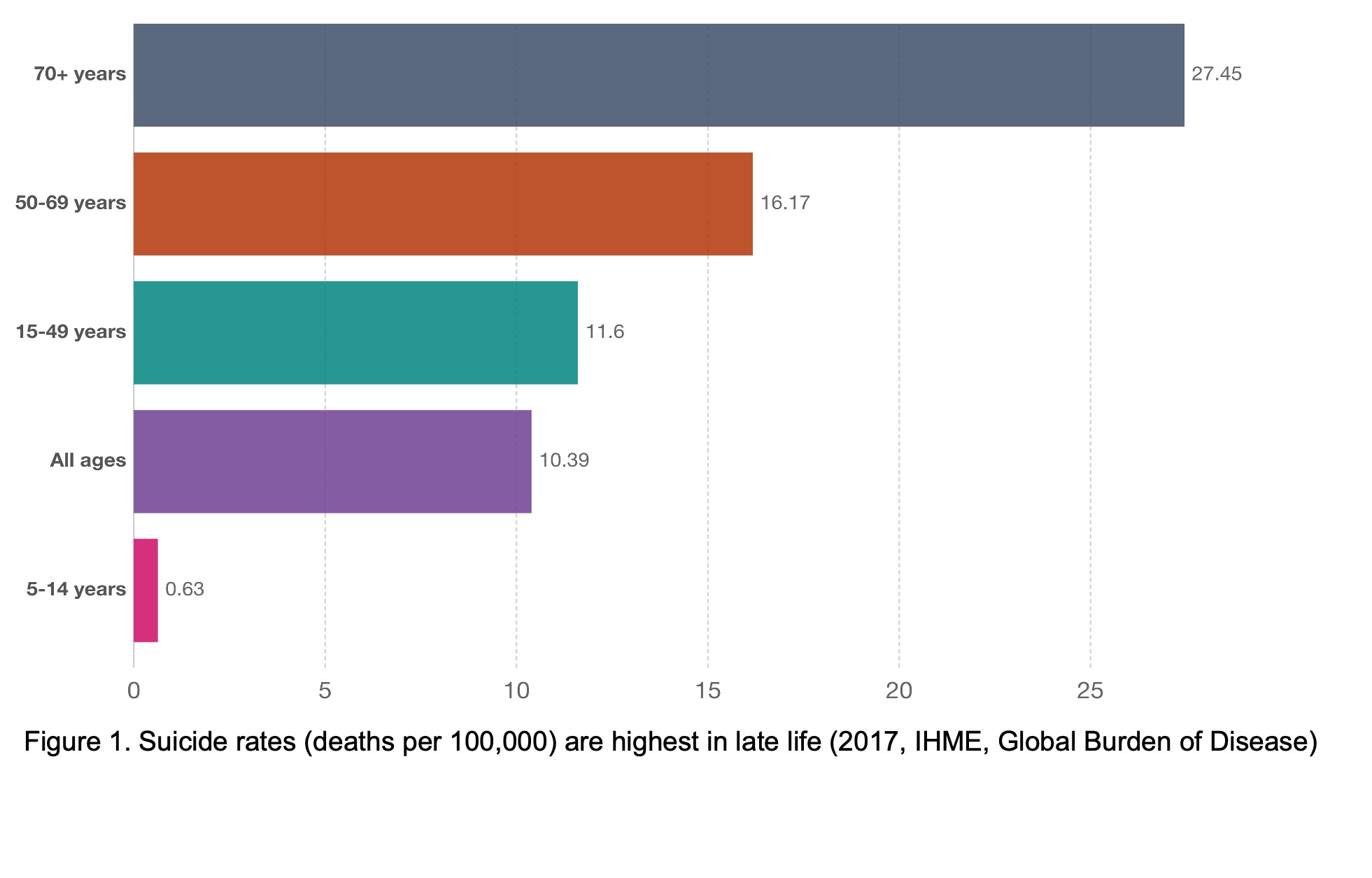 Characteristics of Older Adults Who Die by Suicide
Suicide attempts are more often fatal among older adults because this group is more likely to use more immediately lethal means (e.g., firearms), are more planful and determined, more frail, and often more isolated and thus less likely to be discovered. While most older adults die on their first attempt, a previous suicide attempt remains a potent risk factor for suicide death among older adults. A constellation of biopsychosocial factors converges among older adults at risk for suicide, which can be recalled as the 5 D's of suicide risk in later life (Conwell, 2014; Van Orden, Silva, & Conwell, 2019). Below is information about each of these 5 D's: depression, disability, (physical) disease, (social) disconnection, and (access to) deadly means.
Depression:
Mood disorders (especially Major Depression) are the most common mental disorders among older adults who die by suicide, present in 54% to 87% of older people who die by suicide.
Few older adults who die by suicide will have received formal psychiatric diagnoses or treatment.
The combination of depressive disorders and medical illness is particularly common in older adults who die by suicide.
Older adults are less likely to report sad/depressed mood and endorse instead anhedonia & apathy and are more likely to describe somatic symptoms as their primary concern, including sleep, fatigue, psychomotor slowing, and problems with memory, concentration, processing speed, and executive functioning.
Disability (i.e., functional impairment):
Physical disability (also called functional impairment) is linked to suicide ideation, attempts, and deaths in later life.
Greater numbers of both instrumental activities of daily living (IADLs) and activities of daily living (ADL) are associated with suicide risk.
Sensory impairment, including vision loss, is also associated with suicide in later life.
Most with disability do not die by suicide, but increased risk may occur in the following situations: needing assistance with ADLs (indicated by use of visiting nurse services & home health aides); residence in a long-term care facility; certain personality characteristics such as high need for control/autonomy; inflexibility in use of coping strategies; high levels of internalized ageism (associated with reduced will to live).
There is a complex association between suicide and cognitive functioning: dementia may increase risk for suicide soon after the diagnosis and early in the illness (Seyfried, Kales, Ignacio, Conwell, & Valenstein, 2011) and cognitive control deficits increase risk for suicide attempts in later life (Szanto, 2017).
Disease (physical illness, particularly multiple comorbidities):
Older adults who die by suicide are characterized by: declines in physical health in the year before death, multimorbidity, and poor sleep quality.
Older adults who die by suicide are commonly seen by their primary care physicians in the months and weeks before their deaths.
The combination of depressive disorders and medical illness is particularly common in later life and associated with suicide.
There is inconsistency in the literature as to which specific diseases (or organ systems) are most strongly associated with suicide and some illnesses may be associated with ideation, but not attempts or deaths.
Potential mechanisms include: neurobiology of stress, neurobiology of illness, functional impairment (disability).
Social disconnection (including social isolation, loneliness, family conflict, and feeling like a burden on others) is associated with suicide ideation, attempts, and deaths in later life.
Social connections that create a sense of caring, contributing, and community have a range of benefits for health and well-being (Blazer, 2020; Holt-Lunstad, Robles, & Sbarra, 2017).
Indicators of social disconnection are linked to suicide risk factors in later life as well as suicide ideation, attempt, and death, including: living alone, small social networks, the absence of a confidant, loss of a spouse, social (dis)engagement (e.g., not participating in social clubs/activities), family discord, and loneliness.
Three intervention studies have shown effects on suicide deaths in older adults and all involved promoting social connection—but, the studies were not designed to directly test this mechanism (Chan et al., 2011; De Leo, Dello, & Dwyer, 2002; Oyama, Fujita, Goto, Shibuya, & Sakashita, 2006).
Deadly means (e.g., access to firearms).
Suicide attempts are more often fatal among older adults, in part because older adults tend to use more lethal means (e.g., firearms in the United States)
Older adults in the United States who use firearms as the suicide method are more likely to live in rural areas and to have served in the military (Kaplan, Huguet, McFarland, & Mandle, 2012).
Cognitive control deficits combined with access to lethal means may be a pernicious combination in later life.
Safety Planning with older adults can be useful to address lethal means.
However, suicide in late-life is not an expected or "normal" response to aging. Rather, psychological research has demonstrated that later life is often characterized by greater well-being, more positive emotions, and better capacity to manage emotions (Charles & Carstensen, 2010). Geropsychologists have much to bring to bear on the problem of late-life suicide, including beginning to shed light on the dual truths of how later life is both a time characterized by the maintenance, and in some cases, strengthening of well-being, and at the same time, is a period of heightened risk for suicide.
Risk Assessment & Screening
Before we discuss suicide risk assessment and screening, it is helpful to remind ourselves of the purpose of doing so: the goal of a suicide risk assessment is not a prediction about whether or not an older person will die by suicide. The goal is to determine the most appropriate actions to take to keep the older person safe (Pisani, Murrie, & Silverman, 2016). It is also important to remember to take action for any and all endorsements of suicide ideation, but not the same action for every level of risk. Finally, it is also important to remember that older adults are less likely to spontaneously report suicide ideation: it is up to us to ask. Suicide risk assessments are safe and do not cause or create suicide ideation.
Suicidal thoughts are a symptom of depression, but can occur in older (and younger) adults without depression. These thoughts should always be taken seriously, as both a sign of risk and sign of distress, even if they are not an indication that someone is at imminent risk of suicide. Suicide ideation is categorized as "passive" (e.g., thoughts that one would be better off dead or wishing for death) and "active" (i.e., thoughts of killing oneself). A review of assessment tools and strategies for suicide risk in older adults in primary care is available (Raue, Ghesquiere, & Bruce, 2014). One tool for assessing both passive and active ideation is a depression screening tool, the Patient Health Questionnaire-9 (PHQ-9).The PHQ-9 assesses the nine symptoms of depression in the DSM diagnosis of a Major Depressive Episode; the final item asks how often the respondent has had "thoughts that you would be better off dead or of hurting yourself in some way." If an older adult reports having passive or active suicide ideation (i.e., the PHQ-9 item lumps them together), you must follow-up to determine if the ideation is "passive" or "active" and whether the respondent has current intent to act on his/her thoughts. You can follow up by asking, "in the past two weeks have you had thoughts of killing yourself?" In addition, there are routinized screeners for following up the PHQ-9, including the "P4 Screener for Assessing Suicide Risk" (Dube, Kurt, Bair, Theobald, & Williams, 2010). If a respondent reports active suicide ideation, the P4 can be administered. The 4 "p's" in the P4 are: past suicide attempt, suicide plan, probability (perceived risk), and (lack of) preventive factors. To address risk, good clinical judgment must be exercised and any agency/clinic procedures followed as well. Actions that could be considered to address risk include: 1) expressing concern about suicide ideation and that it is not normative (to be expected) in later life, 2) obtaining consent to contact the primary care physician, 3) means safety discussions, 3) create a safety plan that addresses risk factors; 4) consult a colleague or supervisor; 5) involve the family; 6) consider increasing treatment intensity; 7) consider emergency services (ED, mobile crisis, 9-1-1).
Other relevant assessment measures include the Geriatric Suicide Ideation Scale (GSIS), which can be used to monitor changes in suicide risk across the course of treatment (Heisel & Flett, 2020). The Columbia Suicide Severity Rating Scale is considered a "gold standard" for standardized clinical interviews for suicide risk assessment.
Intervention
Several behavioral interventions have been shown (in quasi-experimental studies) to be associated with reductions in suicide rates among older adults, and all were multi-component, multi-level interventions that involved screening, connection to services, and support. Collaborative care models (CCM) that include brief psychotherapy are associated with reductions in suicidal ideation for some depressed older adults. Treating depression to remission, as well as addressing other risk factors such as functional impairment, pain, and social disconnection, are key components of suicide prevention in later life. In addition, removing access to lethal means, particularly firearms, is also a key aspect of late-life suicide prevention. Coordination of care with primary care physicians is another key aspect of late-life suicide prevention, given that many older adults who die by suicide are seen by their PCPs in the months and weeks leading up to their deaths. Finally, older adults may be less likely to disclose depression and suicide ideation, perhaps in part due to cohort differences as well as personality traits present in some older adults, including low openness to experience; thus, directly and routinely inquiring about suicide risk is key aspect of late-life suicide prevention, especially for older adults who present with depression: just as a physician regularly checks blood pressure, psychologists working with older adults must regularly assess suicide risk. Coordinating safety plans with family members or other key people in the older person's life is also recommended, especially given that cognitive impairment may accompany suicide risk in later life.
Behavioral interventions and psychotherapies that are evidence-based for treating depression in later life can be useful for older adults at risk for suicide in the context of depressive disorders, including Problem Solving Therapy, Behavioral Activation, and Interpersonal Psychotherapy [see GeroCentral Psychotherapy page]. Addressing social connection can be useful for older adults at risk for suicide in the context of social isolation and/or loneliness, including creating a Connection Plan (Van Orden et al., 2020) including strategies to promote social connection in safety plans (Conti et al., 2020); and connecting older adults to community services, including through Area Agencies on Aging, AARP's resources on social isolation, and the National Resource Center for Engaging Older Adults. If disability, sensory impairment, physical illness, or pain are contributing to suicide risk in older adults, coordinating with PCPs can be especially useful, as well as using psychotherapies such as Problem Solving Therapy to empower patients in self-management and coping.
Resources for Late-Life Suicide Prevention
Webinars available for viewing/downloading on Late Life Suicide Prevention:
Toolkits:
Recommended Overview Articles
Written by Kimberly Van Orden, PhD, University of Rochester Medical Center
General
Assessment
Look at the extensive assessment database of geriatric measures from the University of Alabama's Alabama Research Institute on Aging! Register for access to the database HERE.
Dube, P., Kurt, K., Bair, M. J., Theobald, D., & Williams, L. S. (2010). The P4 screener: Evaluation of a brief measure of assessing potential suicide risk in randomized effectiveness trials of primary care and oncology patients. Primary care companion to the Journal of Clinical Psychiatry, 12, doi: 10.4088/PCC.10m00978blu
Posted in
reference
Tagged

Assessment, Suicide
Comments Off

on Dube, P., Kurt, K., Bair, M. J., Theobald, D., & Williams, L. S. (2010). The P4 screener: Evaluation of a brief measure of assessing potential suicide risk in randomized effectiveness trials of primary care and oncology patients. Primary care companion to the Journal of Clinical Psychiatry, 12, doi: 10.4088/PCC.10m00978blu
Treatment
Webinars available for viewing/downloading on Late Life Suicide Prevention:
National Council on Aging: http://www.ncoa.org/calendar-of-events/webinars/suicide-prevention-webinar.html
Suicide Prevention Resource Center: http://www.sprc.org/training-institute/r2p-webinars/all-listings/243
For geropsychologists working with older adults in senior living communities, there is a free toolkit available online through the SAMHSA website: 
http://store.samhsa.gov/product/Promoting-Emotional-Health-and-Preventing-Suicide/SMA10-4515